Discover more from The Practicing Writer 2.0: A Newsletter from Erika Dreifus
Curating fee-free (AND paying) calls and competitions—plus other resources—for writers of fiction, poetry, and creative nonfiction.
Over 9,000 subscribers
The Practicing Writer 2.0: October 2020
Latest fee-free, paying opportunities—and more.
Welcome, new readers, and welcome back to the regulars.
PLEASE SHARE THIS NEWSLETTER—in its entirety—with your writing networks. If you'd like to share a particular competition or submission alert with others, PLEASE CREDIT THE PRACTICING WRITER for the find. Thanks for respecting your editor's volunteer efforts.
For updates and additional opportunity listings between newsletters, please check the "Practicing Writing" blog and follow Erika Dreifus on Twitter (@ErikaDreifus) and/or Facebook.
---
IN THIS ISSUE:
Editor's Note: What's New

Success Stories

Featured Resource

Upcoming/Ongoing Contests, Competitions, and Other Opportunities (NO ENTRY OR APPLICATION FEES; PAYING OPPORTUNITIES ONLY)

Submission Alerts!!! (NO SUBMISSION/READING FEES; PAYING CALLS ONLY)

Blog Notes

Newsletter Matters
---
1. EDITOR'S NOTE: WHAT'S NEW
Hello again, practicing writers:
Time marches on. I've recently celebrated the Jewish New Year 5781 (shana tova to all the other celebrants out there).
And believe it or not, just a month from now I'll be marking the first anniversary of the release of my debut poetry collection, Birthright (Kelsay Books). Happily, though, the coverage hasn't quite ended. The latest: a spotlight on the book through Ruben Quesada's marvelous "Poetry Today" series over on the Kenyon Review's blog. Check the September 15 installment to see what Ruben asked me (and Zohar Atkins, author of Nineveh), and the answers.
With that, let's move on to the new month. I'm wishing everyone an outstanding October.
Warmly,
ERIKA
---
2. SUCCESS STORIES
I'm delighted to share the following communications:
From Sue Granzella: "It happened again—an opportunity which I learned about in The Practicing Writer yielded fruit. Night Shift Storyteller Series just published my piece, entitled "Teacher and Student," and it's 100% because of you. THANK YOU, ERIKA!!
From Belinda Brock: "I just wanted you to know that I sold my essay ["The Language of the High Holidays"] after submitting it to a few of the sites listed on your blog (actually, I received two offers). Thanks and Shana Tova!
From Dr. Thomas Davison: "I have submitted several poems and CNFs using your newsletter as a source. No success to date. But…I wanted to drop you a line anyway – just to let you know how much your unselfish efforts (not forgetting Trish [Hopkinson] & Cathy [Bryant]) means to me personally. It means I can spend less time surfing the net in frustration looking for a home for my creations, and spend more time writing. This is truly a wonderful gift from all three of you. So please accept my sincerest thanks for what you do!"
Editor's note: I love learning about ways in which the newsletter/blogs/my resources support your writing practice. Keep me posted! You just may find your own work celebrated here.
---
3. FEATURED RESOURCE
If you (or your students) may be in search of post-MFA fellowships, you'll want to mosey over to this freshly updated list of such opportunities.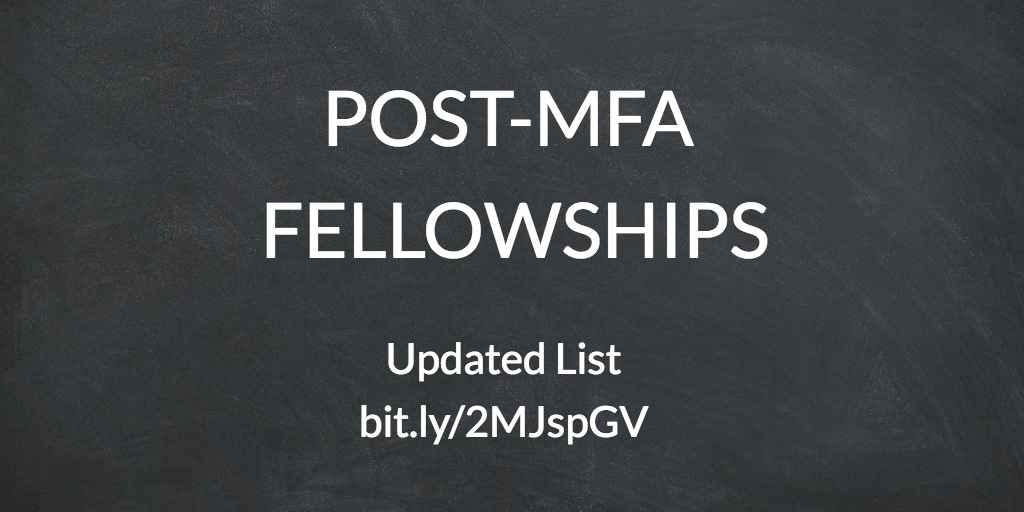 I've done my best to check and update all the links, and I've removed a couple of programs that appear to be "on hiatus." (Please note that in an effort to be comprehensive, this list does include some opportunities that require application fees.)
---
4. UPCOMING/ONGOING CONTESTS, COMPETITIONS, AND OTHER OPPORTUNITIES OF INTEREST (now listed by deadline, with earliest deadline first)
REMINDER! These deadlined opportunities, listed in last month's newsletter, remain open.
---
5. SUBMISSION ALERTS!!!
AND ANOTHER REMINDER! If you didn't catch them last month, you'll find several still-open calls listed in the September issue, too.
---
6. BLOG NOTES
The newsletter is published just once each month, but there's always something new on the Practicing Writing blog:
(Monday) Markets and Jobs for Writers (including state/province/city-specific opportunities that are typically omitted from the monthly newsletter)

Midweek Notes from a Practicing Writer

(Friday) Finds for Writers

Sunday Sentence
Please visit, and comment! 
Interested in matters of specifically Jewish literary and cultural interest? Please also visit the My Machberet blog ("machberet" is the Hebrew word for "notebook").
---
7. NEWSLETTER MATTERS
Information contained in The Practicing Writer is collected from many sources, with the purpose of providing general references. It is researched carefully but readers should verify information when necessary and appropriate. The Practicing Writer and its editor disclaim any liability for the use of information contained within. Thank you for subscribing/reading.
We value our subscribers, and we protect their privacy. We keep our subscriber list confidential.
About the editor: Erika Dreifus is a writer, teacher, and literary consultant whose books include Birthright: Poems and Quiet Americans: Stories. A Fellow in the Sami Rohr Jewish Literary Institute and an adjunct assistant professor at Baruch College, she lives in New York. Please visit ErikaDreifus.com to learn more about her work and follow her on Facebook and/or Twitter, where she tweets "on matters bookish and/or Jewish."