Discover more from The Practicing Writer 2.0: A Newsletter from Erika Dreifus
Curating fee-free (AND paying) calls and competitions—plus other resources—for writers of fiction, poetry, and creative nonfiction.
Over 9,000 subscribers
The Practicing Writer 2.0: May 2020
Latest fee-free, paying opportunities—and a celebration of subscriber successes.
Supporting the Craft & Business of Excellent Writing
---
Welcome, new readers, and welcome back to the regulars!
We value our subscribers, and we protect their privacy. We keep our subscriber list confidential.
PLEASE PASS THE NEWSLETTER ON—in its entirety—to your writing networks. If you'd like to share a particular competition or a submission alert with other writers, PLEASE CREDIT THE PRACTICING WRITER for the find. Thanks for respecting your editor's volunteer efforts!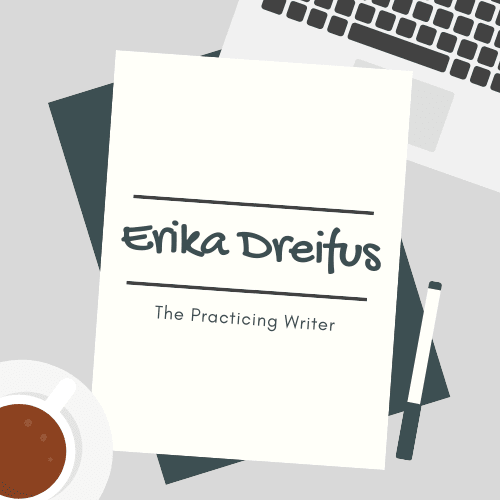 Image description: Erika Dreifus/The Practicing Writer logo.
---
IN THIS ISSUE:
Editor's Note: What's New

Article/Lessons Learned

Featured Resource

Upcoming/Ongoing Contests, Competitions, and Other Opportunities (NO ENTRY OR APPLICATION FEES; PAYING OPPORTUNITIES ONLY)

Submission Alerts!!! (NO SUBMISSION/READING FEES; PAYING CALLS ONLY)

Blog Notes

Newsletter Matters
---
1. EDITOR'S NOTE: WHAT'S NEW
Greetings, practicing writers:
Perhaps more than ever, I've drawn a lot of comfort from the routine of preparing this edition of our monthly newsletter. So thank you for all of the encouragement that so many of you so often send my way about this longtime project.
Yet again, I'm readying this intro note at the end of the editorial process, shortly before hitting "send." And yet again, Substack is warning me that the draft is teetering on the message-length limit. So I'll keep this bit short.
Take good care of yourselves, and, to the extent that you can, your writing practices. I hope that this newsletter helps.
Warmly,
ERIKA
A postscript about the opportunities listed in this issue: Especially right now, people (and organizations) are scrambling. Plans change. It's possible that opportunities that still seemed to be welcoming submissions/applications literally yesterday may be postponed or canceled in the hours/days/weeks to come. I'll do my best to update, but, as always, I don't claim omniscience/perfection. Verify, verify, verify.
---
2. ARTICLE/LESSONS LEARNED: CONGRATULATIONS CORNER
In place of this month's feature article, I've opted to collect and spotlight the many success stories that newsletter/blog readers have shared with me since the last issue was posted. No better time than the present to celebrate and congratulate our colleagues, right?
From J.C. Todd: "A few weeks ago, [you] posted a request for poems for the National Poetry Month feature on Parks & Points, a public lands digital newsletter. I submitted, and today my poem, 'where water has no skin,' was published. There's a small honorarium too. Thank you for your newsletter, from which I've learned much and been directed to explore many opportunities."

Another Practicing Writer, Fiona Walker Ritchie, also shared news of a Parks & Points publication.

Linda Levitt wrote to tell me that after she followed up an alert for one of Christi Craig's class scholarships, Ms. Craig "kindly awarded" her that scholarship. "I have loved working with her," says Linda. "The class is about to wrap up but I'm also enrolled in her class next month. It's a lovely community, and I am grateful to have stumbled into it."

And here's a note from Kay Sexton: "A couple of months ago you listed Greenprints magazine as looking for contributions about gardening. A couple of days later something clicked in my brain, and I dashed off an account of the period in my life where I learned to prune apple trees. It was accepted with just two edits! Thank you for your consistent focus on helping writers achieve success."

From Pat Tompkins: "Here's the latest of several success stories I've had thanks to Erika's top-notch efforts in publicizing paying opportunities: Her Oct. 7 Monday Markets mentioned 'Teach.Write.,' which I'd never heard of. I'm not a teacher but had several poems related to writing. I submitted three and all were accepted recently. I especially appreciated having a bit of good news while stuck home alone these days. So thank you again, Erika."

But, wait! There's more! Jeanie Greensfelder also wrote in to share news of an acceptance from the Journal of Compressed Creative Arts. I'll be looking for the piece, "Penance," online.

Last, but by no means least—Nancy Brewka-Clark shared this message: "Erika, I have benefited greatly from your listings, including winning first prize in the Interview section of the 2018 Proud to Be: Writing by American Warriors Annual Contest and Anthology, but the most remarkable connection came after I purchased Birthright [editor's note: my own book of poems]. Kelsay Books has just published Beautiful Corpus: Poems of the Body, Mind & Spirit, my debut collection after an extraordinary number of decades spent writing poems."
Let's have a round of virtual applause, shall we?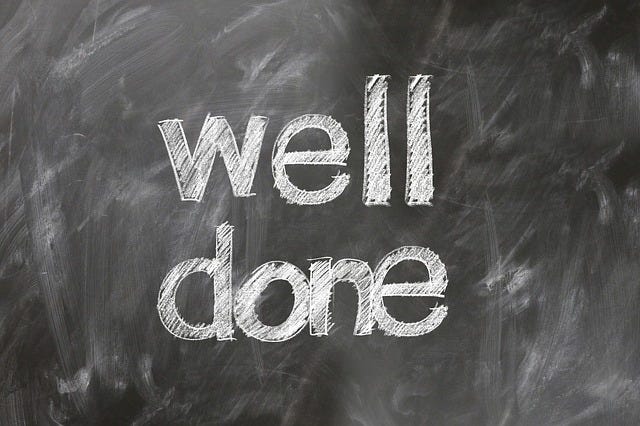 Image description: the words "well done" written on a chalkboard; image by Gerd Altmann from Pixabay.
And please remember that I love to know about successes that come your way via this newsletter/the blogs. Please keep me posted!
---
3. FEATURED RESOURCE: EMERGENCY RESOURCES FOR WRITERS
There's not all that much that I'm able to do at this time to help others directly. But I can research and compile.
So by the middle of March, that's what I was doing. This website page is the result: bit.ly/EmergencyResourcesWriters. Yes, I told you about it last month, but I've continued to update it since then. Please check it out and share with your networks.
---
4. UPCOMING/ONGOING CONTESTS, COMPETITIONS, AND OTHER OPPORTUNITIES OF INTEREST (now listed by deadline, with earliest deadline first)
5. SUBMISSION ALERTS!!!
---
6. BLOG NOTES
The newsletter is published just once each month, but there's always something new on the Practicing Writing blog:
(Monday) Markets and Jobs for Writers (including state/province/city-specific opportunities that are typically omitted from the monthly newsletter)

Midweek Notes from a Practicing Writer

(Friday) Finds for Writers

Sunday Sentence
Please visit, and comment! 
Interested in matters of specifically Jewish literary and cultural interest? Please also visit the My Machberet blog ("machberet" is the Hebrew word for "notebook").
---
7. NEWSLETTER MATTERS
Information contained in The Practicing Writer is collected from many sources, with the purpose of providing general references. It is researched to the best of our ability but readers should verify information when necessary and appropriate. The Practicing Writer and its editor disclaim any liability for the use of information contained within. Thank you for subscribing/reading.
For updates and additional opportunity listings between newsletters, please check in with our "Practicing Writing" blog and follow Erika Dreifus on Twitter (@ErikaDreifus) and on Facebook.
About the editor: Erika Dreifus is a writer, teacher, and literary consultant whose books include Birthright: Poems and Quiet Americans: Stories. A Fellow in the Sami Rohr Jewish Literary Institute, she lives in New York. Please visit ErikaDreifus.com to learn more about her work and follow her on Twitter @ErikaDreifus, where she tweets "on matters bookish and/or Jewish."