Discover more from The Practicing Writer 2.0: A Newsletter from Erika Dreifus
Curating fee-free (AND paying) calls and competitions—plus other resources—for writers of fiction, poetry, and creative nonfiction.
Over 9,000 subscribers
The Practicing Writer 2.0: March 2020
Our seventeenth year of sharing opportunities and resources
Supporting the Craft & Business of Excellent Writing
---
Welcome, new readers, and welcome back to the regulars!
We value our subscribers, and we protect their privacy. We keep our subscriber list confidential.
PLEASE PASS THE NEWSLETTER ON—in its entirety—to your writing networks. If you'd like to share a particular competition or a submission alert with other writers, PLEASE CREDIT THE PRACTICING WRITER for the find. Thanks for respecting your editor's volunteer efforts!
---
IN THIS ISSUE:
Editor's Note: What's New

Article/Lessons Learned

Featured Resource

Upcoming/Ongoing Contests, Competitions, and Other Opportunities (NO ENTRY OR APPLICATION FEES; PAYING OPPORTUNITIES ONLY)

Submission Alerts!!! (NO SUBMISSION/READING FEES; PAYING CALLS ONLY)

Blog Notes

Newsletter Matters
---
1. EDITOR'S NOTE: WHAT'S NEW
Greetings, practicing writers:
Thank you all so much for the warm response to last month's anniversary edition of the newsletter. Your kindness means a lot to me.
Fun fact: I write these introductory notes at the end of the newsletter-drafting process. And as I write this one, the Substack editor warns that I am "near email length limit." So I'll keep this note brief—you can check out my multiple March events elsewhere—and move everyone right along to the (packed) issue.
Here's to a marvelous March,
ERIKA
P.S. Congratulations to practicing writer Adrian S. Potter, who left this comment on the Practicing Writing blog: "I wanted to say thanks - about a year ago I discovered the post you had for the Portage Press call...and it resulted in my first published book of poetry, Everything Wrong Feels Right. Thanks for all the calls and contests you list here and in your newsletter - the info you provide is appreciated!"
Please remember that I love to know about successes that come your way via this newsletter/the blogs. Please keep me posted!
---
2. LESSONS LEARNED: FIVE FREE AND EASY WAYS TO PROMOTE YOUR BOOK
It's no secret that even the largest publishing houses aren't providing all of the marketing and promotional support their authors might wish for these days. When you consider how many authors are working with smaller presses—not to mention the increase in self-publishing afforded by low-cost technologies—it seems that everyone might benefit from some basic, budget-friendly book-promotion tips.
While promoting my short-story collection Quiet Americans (2011), I relied on some tried-and-true techniques. I also discovered a few new tools. And I shared those insights in articles and posts.
But by the time my poetry collection Birthright was in production in 2019, some of those strategies were no longer quite so appealing (goodbye, no-longer-free Goodreads giveaways!). But other helpful resources had arrived (hello, Canva!)
Here, then, are some updated ideas for promoting your book. For the most part, they won't consume too much of your time; even better, they're all free!
1) Email Signatures
If you aren't already using the valuable real estate at the end of each and every email you send, get to it! Virtually all email programs include an option for a "signature," one or more lines of text appended to each outgoing message. Some people include their full contact information. Others choose to share a meaningful quotation. Authors should be using it to point e-correspondents to their books, even ahead of publication.
Keep the signature within reason. I try never to exceed five lines. My current signature includes my name on the first line; the phrase "Latest book: Birthright: Poems" on the second; and then URLs for my website, Twitter account, and Facebook author page. This way, anyone interested in learning more about my writing and/or connecting with me online can do so, easily.
2) Online Bios
For the purposes of this short piece, we'll leave aside a more extensive discussion of social media. But do you already have an account on Goodreads? Twitter? LinkedIn? Have you already established an Amazon Author Central account? For that matter, when did you last update your bio on your own website (you do have a website, yes?). If you have a book coming (or newly published), it's time to update your bio wherever you have access to it.
3) Alumni Notes and Contributor Updates
Chances are, your college (or graduate-school) alumni magazine will be happy to publicize news of your book's publication. If you check the magazine's website, you're likely to find instructions for submitting a brief update. Check early, even if your book's publication date is still months away. (My college's magazine requires "class notes" submissions by March 1 for inclusion in the May-June issue.)
Helpful hint: Think of your "alumni" status in broad terms. That writing conference you attended a few years ago may be delighted to share the news of your publishing success. And remember the literary journals that have published your work. They often share news about their past contributors, especially if the work that they've published (for which you have retained rights, of course), appears in your new book.
4) Canva
Images and graphics catch people's attention. If you are tech-challenged (I describe myself that way), it may take you a little bit of time to become comfortable with Canva. But once you do, you'll be able to design all kinds of graphics to spice up your book-promotion efforts. Yes, more options become available to you with a paid account. But you can do plenty without spending a penny. Here's one nifty creation that I designed once my book's "blurbs" came in—and then shared on social media.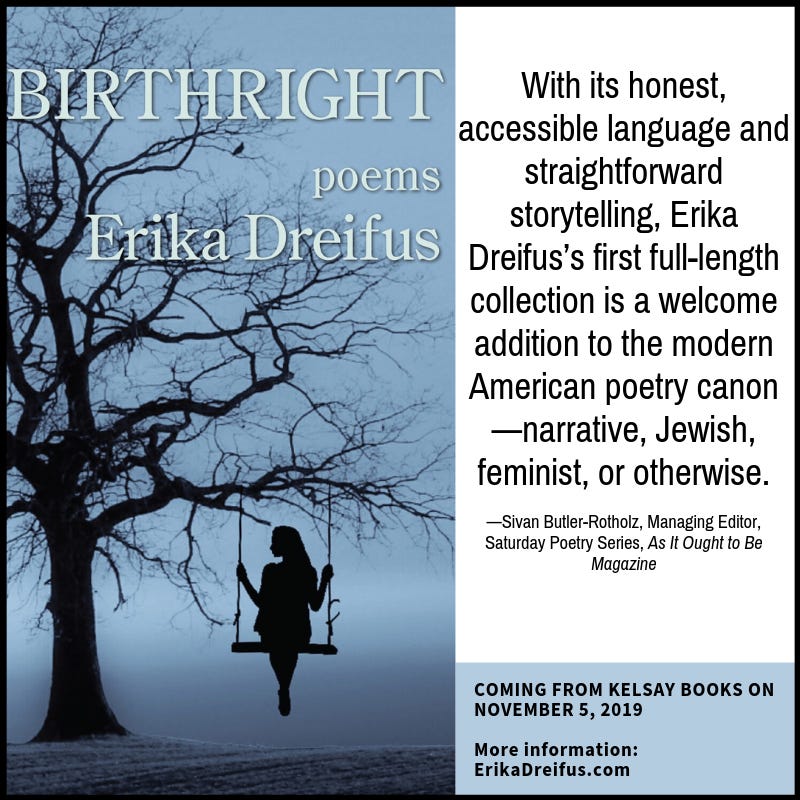 5) Poets & Writers Directory and Literary Events Calendar
There's no cost to apply for a listing in the Poets & Writers Directory (and yes, that's another site where, once registered, you should be sure to keep your bio updated). Once you have an account, you can also announce your readings and other literary events in the site's calendar. It meant something to me to see the launch-event info that I'd submitted for Birthright featured right there on the popular site's homepage (screenshot below).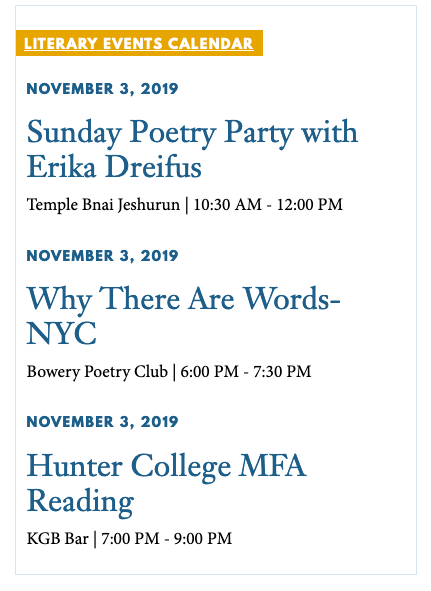 Remember: In order to buy (or borrow, or request, or plan an event that involves) your book, people need to know that it exists. Everything listed above can assist you with making your book "discoverable"—even without a big marketing budget behind you.
---
3. FEATURED RESOURCE: FEE-FREE RESIDENCIES
A little over a year ago, something compelled me to compile a list of writing residencies that are fee-free in two ways: They don't charge application fees, and they don't charge residency fees, either. Some go even further and provide stipends.
In any case, I've recently updated the list. (Links should all be working!)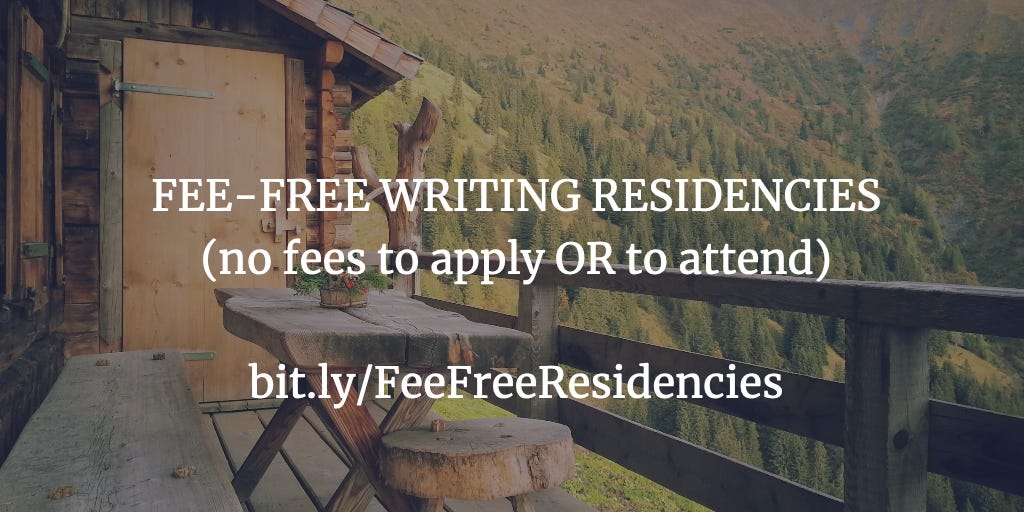 Image description: rustic cabin and table perched in a natural scene, with text label and URL.
The list now contains more than 50 residency programs.
---
4. UPCOMING/ONGOING CONTESTS, COMPETITIONS, AND OTHER OPPORTUNITIES OF INTEREST
---
5. SUBMISSION ALERTS!!!
---
6. BLOG NOTES
The newsletter is published just once each month, but there's always something new on the Practicing Writing blog:
(Monday) Markets and Jobs for Writers (including state/province/city-specific opportunities that are typically omitted from the monthly newsletter)

Midweek Notes from a Practicing Writer

(Friday) Finds for Writers

Sunday Sentence
Please visit, and comment! 
Interested in matters of specifically Jewish literary and cultural interest? Please also visit the My Machberet blog ("machberet" is the Hebrew word for "notebook").
---
7. NEWSLETTER MATTERS
Information contained in The Practicing Writer is collected from many sources, with the purpose of providing general references. It is researched to the best of our ability but readers should verify information when necessary and appropriate. The Practicing Writer and its editor disclaim any liability for the use of information contained within. Thank you for subscribing/reading.
For updates and additional opportunity listings between newsletters, please check in with our "Practicing Writing" blog and follow Erika Dreifus on Twitter (@ErikaDreifus) and on Facebook.
About the editor: Erika Dreifus is a writer, teacher, and literary consultant whose books include Birthright: Poems and Quiet Americans: Stories. A Fellow in the Sami Rohr Jewish Literary Institute, she lives in New York. Please visit ErikaDreifus.com to learn more about her work and follow her on Twitter @ErikaDreifus, where she tweets "on matters bookish and/or Jewish."