The Practicing Writer 2.0: June 2020
Latest fee-free, paying opportunities—and some tips for our online times.
Supporting the Craft & Business of Excellent Writing
---
Welcome, new readers, and welcome back to the regulars!
We value our subscribers, and we protect their privacy. We keep our subscriber list confidential.
PLEASE SHARE THIS NEWSLETTER—in its entirety—with your writing networks. If you'd like to share a particular competition or submission alert with others, PLEASE CREDIT THE PRACTICING WRITER for the find. Thanks for respecting your editor's volunteer efforts!
---
IN THIS ISSUE:
Editor's Note: What's New

Article/Lessons Learned

Featured Resource

Upcoming/Ongoing Contests, Competitions, and Other Opportunities (NO ENTRY OR APPLICATION FEES; PAYING OPPORTUNITIES ONLY)

Submission Alerts!!! (NO SUBMISSION/READING FEES; PAYING CALLS ONLY)

Blog Notes

Newsletter Matters
---
1. EDITOR'S NOTE: WHAT'S NEW
Greetings, practicing writers:
Yet again, I'm writing this message at the end of the newsletter-drafting process, and Substack is telling me that we're already "near email length limit." So, quickly:
There's so much pain in our world right now. It's impossible not to acknowledge that. All I can say here is that I hope that whatever you you may be experiencing—body and/or soul, connected to the stories dominating the news or not—this newsletter brings a bit of brightness, however small.
Wishing happier, healthier times—in every respect—for us all,
ERIKA
P.S. Last month's mega-list of subscriber success stories reminded Virginia Chase Sutton that she hadn't yet reported in with her own recent Parks & Points publication: "They did a beautiful job with 'Ten Days on the Water'—and they added a lovely visual….Thank you for the opportunity." Please remember that I love to know about successes that come your way via this newsletter/the blogs. Please keep me posted!
---
2. ARTICLE/LESSONS LEARNED: PROMOTING YOUR ONLINE EVENTS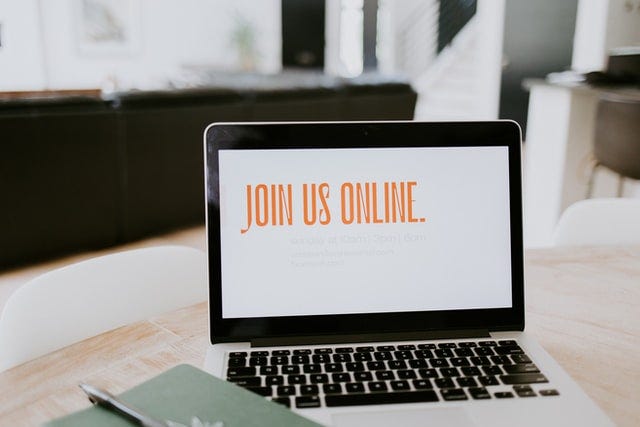 Image description: laptop with screen bearing an invitation to "Join Us Online." Photo by Samantha Borges on Unsplash.
Unless you're actively working to stay offline these days, you're likely noticing an ever-expanding menu of literary programming in virtual spaces. One recent evening found me clicking from panel to launch party to reading—with each event hosted by an organization in another state. As a "consumer," I find it amazing and inspiring. But along with appreciating these opportunities to reach new audiences, anyone who is hosting or presenting may be wondering how, exactly, to get those audiences to learn about and register for your events.
Pre-COVID-19, publicists (and savvy authors) would work to place event information in local calendars. But when the world and the laptop are so inextricably linked, geographical boundaries fade. In response, new calendar structures are emerging.
Below, you'll find some examples. Consider them places to share information about your own upcoming events—and to discover programs that you may be able to attend from afar, supporting other writers and the bookstores and organizations they're working with.
Closing tip: I'm beginning to notice queries in Facebook groups and elsewhere to the effect of "Where can I pitch myself/my forthcoming book for events?" The pages listed above can also help you locate hosts/series best suited to your work.
Good luck—and catch you online!
---
3. FEATURED RESOURCE
If I were planning a full-fledged virtual writing-focused conference, I'd make it a point to spend some quality time with "Here's (Exactly) How We Organized One of the Largest Virtual U.S. Journalism Events to Date," co-authored by the Center for Cooperative Media's Stefanie Murray and Joe Amditis (Nieman Lab).
---
4. UPCOMING/ONGOING CONTESTS, COMPETITIONS, AND OTHER OPPORTUNITIES OF INTEREST (now listed by deadline, with earliest deadline first)
Reminder: You'll find COVID-19-related emergency grant and other information available at bit.ly/EmergencyResourcesWriters, the page that I published in mid-March and have been updating since then.
---
5. SUBMISSION ALERTS!!!
---
6. BLOG NOTES
The newsletter is published just once each month, but there's always something new on the Practicing Writing blog:
(Monday) Markets and Jobs for Writers (including state/province/city-specific opportunities that are typically omitted from the monthly newsletter)

Midweek Notes from a Practicing Writer

(Friday) Finds for Writers

Sunday Sentence
Please visit, and comment! 
Interested in matters of specifically Jewish literary and cultural interest? Please also visit the My Machberet blog ("machberet" is the Hebrew word for "notebook").
---
7. NEWSLETTER MATTERS
Information contained in The Practicing Writer is collected from many sources, with the purpose of providing general references. It is researched carefully but readers should verify information when necessary and appropriate. The Practicing Writer and its editor disclaim any liability for the use of information contained within. Thank you for subscribing/reading.
For updates and additional opportunity listings between newsletters, please check in with our "Practicing Writing" blog and follow Erika Dreifus on Twitter (@ErikaDreifus) and on Facebook.
About the editor: Erika Dreifus is a writer, teacher, and literary consultant whose books include Birthright: Poems and Quiet Americans: Stories. A Fellow in the Sami Rohr Jewish Literary Institute and an adjunct assistant professor at Baruch College, she lives in New York. Please visit ErikaDreifus.com to learn more about her work and follow her on Facebook and/or Twitter, where she tweets "on matters bookish and/or Jewish."