Discover more from The Practicing Writer 2.0: A Newsletter from Erika Dreifus
Curating fee-free (AND paying) calls and competitions—plus other resources—for writers of fiction, poetry, and creative nonfiction.
Over 9,000 subscribers
The Practicing Writer 2.0: July 2020
Latest fee-free, paying opportunities—plus some re-upped author interviews.
Supporting the Craft & Business of Excellent Writing
---
Welcome, new readers, and welcome back to the regulars!
We value our subscribers, and we protect their privacy. We keep our subscriber list confidential.
PLEASE SHARE THIS NEWSLETTER—in its entirety—with your writing networks. If you'd like to share a particular competition or submission alert with others, PLEASE CREDIT THE PRACTICING WRITER for the find. Thanks for respecting your editor's volunteer efforts!
---
IN THIS ISSUE:
Editor's Note: What's New

Article/Lessons Learned

Featured Resource

Upcoming/Ongoing Contests, Competitions, and Other Opportunities (NO ENTRY OR APPLICATION FEES; PAYING OPPORTUNITIES ONLY)

Submission Alerts!!! (NO SUBMISSION/READING FEES; PAYING CALLS ONLY)

Blog Notes

Newsletter Matters
---
1. EDITOR'S NOTE: WHAT'S NEW
Hello again, practicing writers:
I don't have all that much to report from my own HQ right now (but somehow, there's usually enough to fuel updates in my Midweek Notes posts). Frankly, I'm more enthusiastic about other people's recent work/achievements, so those will be my focus here.
This one came to my attention through a comment on a recent blog post, where Jane Hammons shared: "Just a short thank you for your newsletter. A couple of weeks ago, I saw the post about Conium Review's call for stories with the theme of renewal as they prepared to launch their new website. I submitted my story Creature Creator, which was chosen for this launch and is also this month's online story."
More good news came in through Twitter (link to the screenshot).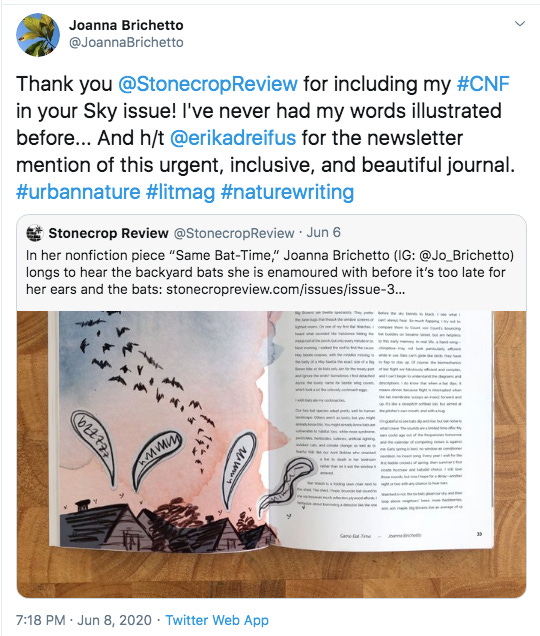 And just the other day this message arrived from Yvonne (aka Yvonne Chism-Peace): "As a reader of your newsletter for years, I have followed up on many of your leads. Often I am already familiar with a journal, but your newsletter gives me a timely prod to submit work. Such was the case with RATTLE: POETS RESPOND. On Sunday, June 21, 2020, my poem 'Malcolm X Park' was the winner."
Well done, all!
Please recall that I love learning about ways in which the newsletter/my resources assist with your writing practice. Keep me posted! You just may find your own work celebrated here.
As we proceed into all that our collective future holds, I'm wishing all the best to all of you—and to your writing practices.
Sincerely,
ERIKA
---
2. ARTICLE/LESSONS LEARNED: INTERVIEWS WITH BLACK PRACTICING WRITERS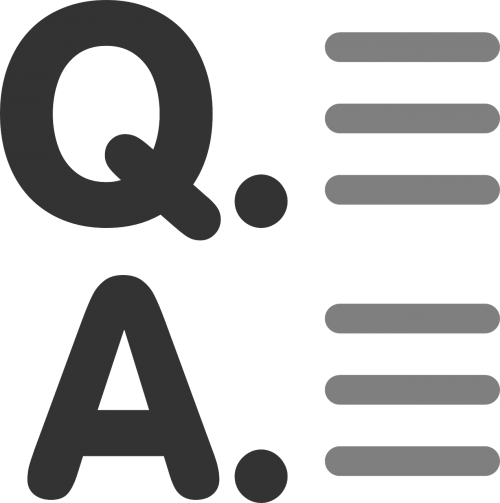 Image description: letters "Q" and "A," each followed by lines representing text.
If you're new to these newsletters, you may not know that for a number of years, this "article" space has occasionally featured "Interviews with Practicing Writers." (I had to dig to locate the most recent example, which was published nearly a year ago, several months before the newsletter relaunched in "2.0" format here on Substack this past January.)
Typically presented to coincide with the release of an author or editor's new book, these Q&A pieces have addressed both craft and business topics. They live on, discretely, in archived form on my website. And, following examples that I've lately seen elsewhere, I'm going to use this month's "lessons learned" space to re-up and amplify the voices of some Black practicing writers who have spoken here before.
In alphabetical order:
If you missed these interviews when they first appeared, there's perhaps no better time than the present to read them.
---
3. FEATURED RESOURCE: INTERVIEWS WITH PRACTICING WRITERS
Want to check out all of the aforementioned archived interviews? You'll find them collected at https://www.erikadreifus.com/resources/interviews/.
---
4. UPCOMING/ONGOING CONTESTS, COMPETITIONS, AND OTHER OPPORTUNITIES OF INTEREST (now listed by deadline, with earliest deadline first)
REMINDER! As of today, the following opportunities, listed in last month's newsletter, remain open for entries/applications.
---
5. SUBMISSION ALERTS!!!
---
6. BLOG NOTES
The newsletter is published just once each month, but there's always something new on the Practicing Writing blog:
(Monday) Markets and Jobs for Writers (including state/province/city-specific opportunities that are typically omitted from the monthly newsletter)

Midweek Notes from a Practicing Writer

(Friday) Finds for Writers

Sunday Sentence
Please visit, and comment! 
Interested in matters of specifically Jewish literary and cultural interest? Please also visit the My Machberet blog ("machberet" is the Hebrew word for "notebook").
---
7. NEWSLETTER MATTERS
Information contained in The Practicing Writer is collected from many sources, with the purpose of providing general references. It is researched carefully but readers should verify information when necessary and appropriate. The Practicing Writer and its editor disclaim any liability for the use of information contained within. Thank you for subscribing/reading.
For updates and additional opportunity listings between newsletters, please check in with our "Practicing Writing" blog and follow Erika Dreifus on Twitter (@ErikaDreifus) and on Facebook.
About the editor: Erika Dreifus is a writer, teacher, and literary consultant whose books include Birthright: Poems and Quiet Americans: Stories. A Fellow in the Sami Rohr Jewish Literary Institute and an adjunct assistant professor at Baruch College, she lives in New York. Please visit ErikaDreifus.com to learn more about her work and follow her on Facebook and/or Twitter, where she tweets "on matters bookish and/or Jewish."