The Practicing Writer 2.0: April 2020
#NationalPoetryMonth—and #Covid19—edition
Supporting the Craft & Business of Excellent Writing
---
Welcome, new readers, and welcome back to the regulars!
We value our subscribers, and we protect their privacy. We keep our subscriber list confidential.
PLEASE PASS THE NEWSLETTER ON—in its entirety—to your writing networks. If you'd like to share a particular competition or a submission alert with other writers, PLEASE CREDIT THE PRACTICING WRITER for the find. Thanks for respecting your editor's volunteer efforts!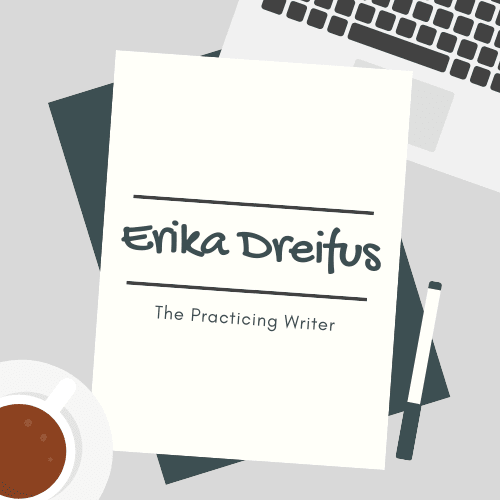 Image description: Erika Dreifus/The Practicing Writer logo.
---
IN THIS ISSUE:
Editor's Note: What's New

Article/Lessons Learned

Featured Resource

Upcoming/Ongoing Contests, Competitions, and Other Opportunities (NO ENTRY OR APPLICATION FEES; PAYING OPPORTUNITIES ONLY)

Submission Alerts!!! (NO SUBMISSION/READING FEES; PAYING CALLS ONLY)

Blog Notes

Newsletter Matters
---
1. EDITOR'S NOTE: WHAT'S NEW
Greetings, practicing writers:
Typically, the April newsletter is dominated by National Poetry Month.
But this isn't a typical time. And this issue's featured resource, pointing you to a compilation of "Emergency Resources for Writers," reflects that truth.
A number of poets (including me) had busy Aprils planned, replete with readings and other events. Things have changed; the article below, on "Promoting Your Book During a Pandemic," addresses that.
I hope that all of you are staying safe and healthy and generally faring well. If you're up for it, you'll be able to find me presenting a reading on April 5 via the brand-new Hidden Timber Books Online Author Reading Series. (It's free, but please do register if you'd like to attend.)
Take good care of yourselves, and, to the extent that you can, your writing practices. I hope that this newsletter helps.
Warmly,
ERIKA
A postscript about the contests/competitions/calls listed in this issue: Especially right now, people (and organizations) are scrambling. Plans change. It's possible that opportunities that still seemed to be welcoming submissions/applications literally yesterday may be postponed or canceled in the hours/days/weeks to come. I'll do my best to update, but, as always, I don't claim omniscience/perfection. Verify, verify, verify.
And a more routine postscript: Please remember that I love to know about successes that come your way via this newsletter/the blogs. Please keep me posted!
---
2. LESSONS LEARNED: PROMOTING YOUR NEW BOOK DURING A PANDEMIC
In the two weeks that elapsed between the March 7 version of my "Be Your Own Book Publicist" seminar, which took place in a classroom at Grub Street's Boston headquarters, and the March 22 iteration that I presented in webinar format Hidden Timber Books, a lot changed.
Including the work of book promotion.
Thus, I scrambled to update my course materials. For the webinar, I recommended several constructive commentaries on the work of book promotion during the current (or any) crisis: a brief excerpt from Courtney Maum's Before and After the Book Deal; Tammy Tarng's "Without Places to Gather, Debut Novelists Reimagine Book Promotion"; Amy Klein's "What It's Like to Promote a Book During a Pandemic"; and Allison Pottern Hoch's "So Your Book Launch Has Been Cancelled. Now What?".
Then, I shared samples from what I'd begun to notice online: a wave of generous invitations and projects devoted to helping authors cope with the unforeseen challenges to their book-promotion plans. Others have already compiled detailed lists of some of these efforts. Consult, for example, another offering from Allison Pottern Hoch (a list of virtual promotional opportunities) and Diana Urban's post on "8 Ways Authors Are Helping Authors with Books Releasing During COVID-19" for BookBub.
I won't intentionally repeat in this space the many wonderful projects that are already mentioned in these two pieces, so do be sure to check them. But I will share several more such manifestations, all of which, as of this writing, appear to be welcoming pitches/submissions. Please be sure to read all guidelines (and, in the case of social-media posts, full threads) and check for updates.
Thank you to everyone mentioned here for all of their generosity. And good luck to everyone who's promoting a book—at any time.
If you're regretting having missed the sessions mentioned earlier in this article, I have some happy news for you: Hidden Timber Books is currently offering a recording of the webinar (plus a copy of the slides) on-demand. Find out more on their website.
---
3. FEATURED RESOURCE: EMERGENCY RESOURCES FOR WRITERS
There's not all that much that I'm able to do at this time to help others directly. But I can research and compile.
So by the middle of March, that's what I was doing. This new page on my website is the result: bit.ly/EmergencyResourcesWriters.
---
4. UPCOMING/ONGOING CONTESTS, COMPETITIONS, AND OTHER OPPORTUNITIES OF INTEREST (now listed by deadline, with earliest deadline first)
---
5. SUBMISSION ALERTS!!!
---
6. BLOG NOTES
The newsletter is published just once each month, but there's always something new on the Practicing Writing blog:
(Monday) Markets and Jobs for Writers (including state/province/city-specific opportunities that are typically omitted from the monthly newsletter)

Midweek Notes from a Practicing Writer

(Friday) Finds for Writers

Sunday Sentence
Please visit, and comment! 
Interested in matters of specifically Jewish literary and cultural interest? Please also visit the My Machberet blog ("machberet" is the Hebrew word for "notebook").
---
7. NEWSLETTER MATTERS
Information contained in The Practicing Writer is collected from many sources, with the purpose of providing general references. It is researched to the best of our ability but readers should verify information when necessary and appropriate. The Practicing Writer and its editor disclaim any liability for the use of information contained within. Thank you for subscribing/reading.
For updates and additional opportunity listings between newsletters, please check in with our "Practicing Writing" blog and follow Erika Dreifus on Twitter (@ErikaDreifus) and on Facebook.
About the editor: Erika Dreifus is a writer, teacher, and literary consultant whose books include Birthright: Poems and Quiet Americans: Stories. A Fellow in the Sami Rohr Jewish Literary Institute, she lives in New York. Please visit ErikaDreifus.com to learn more about her work and follow her on Twitter @ErikaDreifus, where she tweets "on matters bookish and/or Jewish."